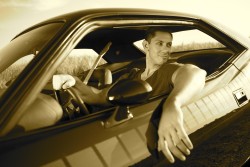 Winner of the 2015 TSA best Alt-Country-Blues artist, Adam James is an established Indigenous Australian singer/songwriter.  Creativity and collaboration are at the heart of everything music Adam does travelling the globe in search of a dynamic sound.
His output is prolific and possesses an enthusiasm for making easy listening music. While previously positioned in the mainstream Australian Country Music scene, Adam now finds himself writing at the heart of the blues and his performance dynamic, generosity and integrity sees him sought out by music festivals, organizations and corporations looking for a young well-respected entertainer and musician.
His on-stage presence engages audiences around the globe and he has a strong following of loyal fans who are prepared to travel to hear him. Put simply, his audiences come to hear something about themselves. After two full studio albums and EP in 8 years, touring in Australia and Canada where he received the 2012 APCMA International Indigenous Artist of the Year plus a relentless pursuit of writing and honing his craft, Adam is on his way to releasing his forth studio album early 2020. This next body of music work features a fresh groove music exploring blues inspired by greats such BB King, Eric Clapton, John Mayer and Boz Scaggs.
Adam has shared the headline stage with Ross Wilson (Daddy Cool) [Warner], Gangajang [Inde], Jessica Mauboy (Australian Idol Winner) [Sony/BMG], Stan Walker (Australian Idol Winner) [Sony/ BMG], Thirsty Merc (ARIA Winners) [Warner], Dan Sultan [Warner], Casey Donnovan [Aust IdolWinner Sony], Archie Roach, Neil Murray, Troy Cassar-Daley [Liberation], The McClymonts (CMAA Golden Guitar and ARIA Winners) [Universal] and The Wiggles [ABC], Indian City (Canada, Sony). Adam single 'Children of the Sunrise' was chosen as an anthem for Olympian Ian Thorpe's Foundation for Youth in 2011. The Fountain for Youth focuses on advocacy for the needs of children living in great disadvantage in an attempt to close the health gap between Indigenous and non-Indigenous Australians. Adam maintains a strong connection with some of the most disadvantaged members of the Australian community and works closely with the Jimmy Little Foundation song writing with Indigenous students across Australia and focusing on good nutrition and positive life choice.  Adam has also performed and entertained at destination weddings in both Australia and New Zealand.